Where is Furcation held?
You've heard the rumours, investigated the whispers and complained endlessly about the lack of public transport and quality of roads in North Devon, so here it is - this year, Furcation is coming a little bit closer to (statistically your) home - we're going to Burnham baby... Ish!
Our friends at John Fowler have pulled out all the stops this year, and we'll be in their biggest park, Sandy Glade! We loved our time in Combe Martin, and will always treasure our memories of Combe Martin Beach and Sandaway parks, but we're just too damn big for small-town Devon! No, now we're small-town Somerset.
Most importantly, it's not in the middle of nowhere! There's motorways, and train stations, running real trains that didn't used to be buses! It's less than an hour from Bristol, so transport links are very well maintained.
Sandy Glade Holiday Park
Sandy Glade is one of John Fowler's largest parks, featuring accommodation for hundreds of people in pretty much the same stuff you've come to expect - static caravans of various descriptions and a load of chalets and apartments too.
We have exclusive use of the park thanks to our later date, meaning you get to take full advantage of its features including:
Heated indoor swimming pool
Sauna
On-site shop
Catering
Something called a "Foxy Club for Children"
Free Wi-Fi in the Clubhouse (although with us now being in the M4 corridor, Burnham should be covered with 3 and 4G)
Launderette
"Amusements"
Bar meals
"Next Gen Games Den"
Come see the park johnfowlderholidays.com called "A Big & Lively Park"!
Burnham & Brean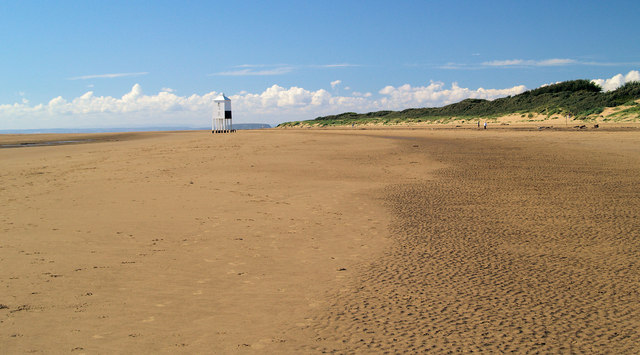 Sandy Glade is situated between the towns of Brean and Burnham, the former being a small holiday resort and the latter being a larger holiday resort. Burnham has pretty much everything you need from a town, including big supermarkets, shopping, a seafront, a pier, and a beach we promise* isn't haunted.
We're much closer to the beach this year, with Brean sands featuring a lovely wide stretch of sand just beyond the dunes. Just be aware that the Bristol Channel has the second largest tidal range in the world, so don't be surprised if you go out expecting sea and instead find miles and miles of mudflats. Don't go on them, seriously.
Getting there
Brean is well-served by most forms of transportation, including:
Rail and Bus
The nearest station is Highbridge & Burnham, however if you're coming by public transport, we recommend instead using Weston-super-Mare Station, as this has direct bus links via the number 20 towards Burnham-on-Sea, then riding to Hurn Lane bus stop. It's about 40 minutes. You'll likely need to change at Bristol Temple Meads or Parkway if you're coming from further afield.
The link to the bus timetable is available by clicking or tapping right here, but make sure you look at the yellow timetable at the bottom, as that covers the dates that Furcation is running. Buses are approximately every hour. If you also look on the map in the timetable, you can see where Sandy Glade is located on the bus route, giving you a good indication of where to get off of the bus.
Air
If you're flying in, Bristol Airport is the closest - you'll need to then transfer either to bus or train in order to get to Brean. You'll need to use the airport shuttle service to go into Bristol itself then change there. Alternatively if you're coming from really far away and want to fly into Heathrow or Birmingham, you can do that too, but you'll then need to get another train to Bristol.
Road
The M5 motorway runs nearby, with junction 22 providing access to the town and Brean. Come off of the M5 at Junction 22 and follow the B3140 (this will be named Love Lane, Berrow Road and Barton Road). You will then deviate left onto Parsonage Road, which then links to Coast Road. Keep following this road and Sandy Glade will be on your right. It is quite easy to miss, so you will need to be on the lookout!
For those of you that have one of those new fangled Sat-Navs, the post code is TA8 2QT, or if you have a smartphone, the Google Maps link is accessible by cliciking or tapping here, or by looking at the map at the top of this page.