Furcation 2019 Events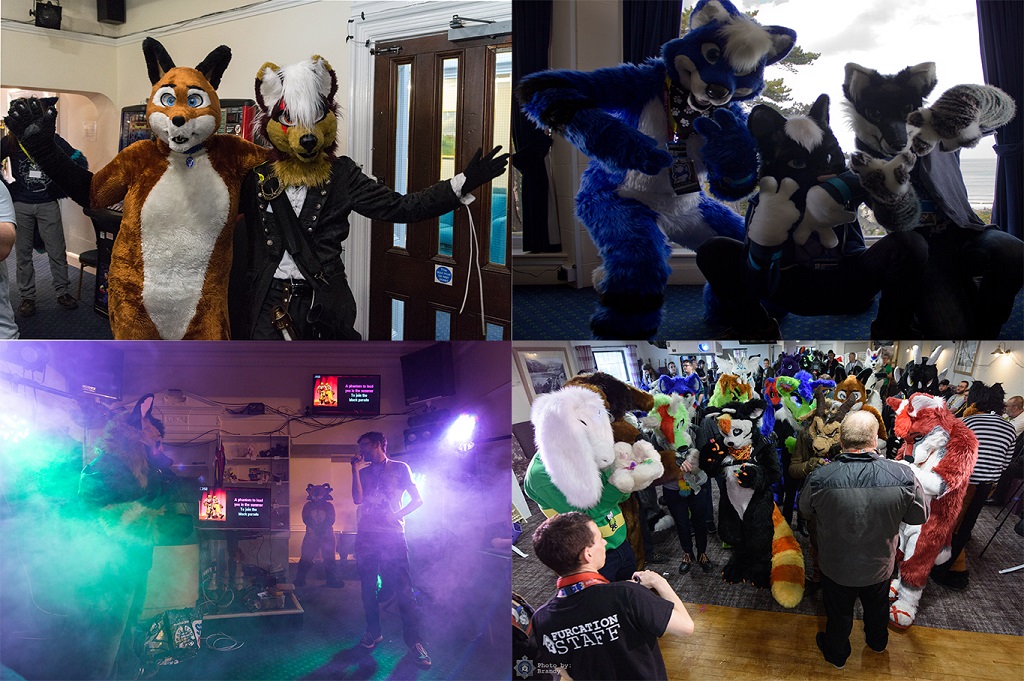 Furcation is all about having fun and socialising with your friends.
Our entertainments team also run events during Furcation to make the most out of your time with us. Think of these as 'events inside the event'! We also don't follow convention norms, we have gaps in our timetable so you can spend the time with your friends and so that our events don't clash with each other. We also have one golden rule for events at Furcation, which is "No fursuit, no problem!" Even if we advertise the title of an event as 'fursuit', absolutely ANYONE can join in. We want this event to be open to all. 
Also, learning from previous years, we are going to publish two timetables this year, because it's November and it will potentially be cold and dark pretty quickly! One will be a 'Good Weather' timetable. If we have sunny, or at least relatively dry weather, we will run this timetable. The other will be a 'Bad Weather' timetable. If we have a lot of wetness, we will run this timetable. 
Also... we have two spaces this year. That's right, two! We have the main clubhouse, and a panel area in the Dune House Panel Space. The first timetable will be the main events in the clubhouse, the second will be the Dune House Panels.
MAIN EVENTS - CLUBHOUSE
 
FRIDAY
Meet And Greet - 5:00PM to 6:00PM
A chance to say hi to your hosts for this year before the fun and frolics begin. Meet up with your friends in the clubhouse, have a drink and socialise. Our front-line team of staff will also be available for you to say hi to and to meet before the real busy work gets under way.
Opening Ceremony - 6:30PM to 7:30PM
What does every good Saturday Morning TV show start with? That's right, an intro! Join your host, who puts the 'Fur' in Furcation, Jasper Foxx, in the clubhouse to kick off the weekend in fine style. We may also have some fun nostalgia trips to look forward to as well.
DJ One, Cobalt Skyhunter - 8:00PM to 10:00PM
Join the first of our Furcation DJ's to gear us up into the weekend ahead. Cobalt Skyhunter will kick off a night of dance with two hours of upbeat and boppy music to get your tails shaking with artists such as Tiesto and Deadmau5. Come along and give this DJ some love!
DJ Two, Acey Woofer - 10:00PM to 12:00AM
Finishing the night off with some classic dance floorfillers is Acey Woofer, hot off the presses from Confuzzled. If you are into your classic songs that always get you on the floor, this is the time for you to show us what you got on the dancefloor!
SATURDAY 
FC:TV LIVE, The Live Performance - 10:00AM to 12:00PM
It's Saturday morning, and it's time to watch Saturday morning children's TV. Furcation was nicknamed FC:TV LIVE this year, and we are doing our own Saturday morning TV show called… FC:TV LIVE! This is going to be done live on stage, hosted by Frio and Ulfer, with some special guests, a cartoon and a couple of games with proper prizes, too!
Swop Shop - 12:30PM to 3:30PM
Does anybody remember the Saturday Morning TV show Swop Shop? It's probably before most of our times! This is where you can walk around and see what wares are being sold by our many dealers. This event is bigger and better this year with more dealers than before, so come on down and see what's on offer.
The (Not So) Impossible Quiz - 4:00PM to 5:30PM
Get your grey matter working as our quizzes return to Furcation. Frio and Ulfer will be testing your knowledge on a lot of things, from general (kids TV) knowledge to Children's TV themes. Time to live some of the nostalgia of your younger years. Prizes will be given out to the winners, too.
Karaoke - 5:30PM to 7:30PM
What Furcation would be complete without our two hours of laughs and very bad… I mean good (Edited by Frankie)… singing? Join us and select your best songs to show off in front of the crowd. A voice like your favourite singer is optional.
DJ Three, Swolf - 8:00PM to 10:00PM
This DJ leaves little introduction, as he has kind of become a resident DJ for Furcation. Always a crowd favourite, join Swolf with his mixed bag of fun. This is one of the DJ's not to be missed, but then again, all of them are not to be missed!
DJ Four, Micah - 10:00PM to 12:00AM
It's time to go hard! No, not like that, I mean dance wise. Micah finishes off our saturday with some hard style EDM and a lot of bass. We have a larger sound system this year, we intend to use it!
SUNDAY 
Retro Game Corner - 11:00AM to 1:00PM
Our retro games corner is bigger and better this year. We will have more consoles on show, all thanks to Spark Vulpis, and more fun to be had. If you want to live your younger gaming years, or see what computer gaming used to be like, come along and see for yourself.
PLEASE NOTE: Before the Retro Game Corner event starts, there will be a 2-minute silence in the clubhouse to commemorate Remembrance Sunday. We welcome you to join us if you wish to participate.
Fursuit Games - 1:30PM to 2:30PM
Our fursuit games are back and this time, Rico Husky will be putting the participants through some team-based games. Think 50/50 style challenges and you are on the right track… Prizes will be given out to the winning team of participants.
Hungry Hippos - 2:45PM to 3:45PM
Our favourite ball-based game is back for another year. The aim is simple, get as many balls in your bucket as you can. This year, we are splitting the rounds up for fursuiters and non-fursuiters as we want to get everyone involved, just like all of our events!
Photoshoot - 4:00PM
Our photography team will be on hand to take the yearly group photo. If you want to be in this, fursuit or not, make sure you turn up to be in the big picture. We want to make this photo our biggest yet.
Depending on the weather, after the photoshoot will either be one of two events:
Fursuit Walk (GOOD WEATHER)
If the weather is good, we will be walking a pre-planned route of Sandy Glade Holiday Park… and we are doing it with a twist. By this time, it will be starting to darken due to twilight hours, so we want to light up the park, and your suits, with as many glowsticks, LED's, anything that produces light and bring a carnival atmosphere to the last official night of Furcation.
Fursuit Catwalk (BAD WEATHER)
If the weather is bad, we shall do a fursuit catwalk on the main stage in the clubhouse. This is where we will play music and you can strut your stuff on the main stage for a minute. Bear in mind that we do want to keep it relatively family safe and that ANYBODY with a fursuit can join in... you don't need an amazing fursuit to show it off!
Whichever event we run, this will finish at 5:00PM
Charity Auction - 5:00PM to 6:00PM
This is where you can bid for items to take home from Furcation and all proceeds will go to our chosen charity for this year, Ferne Animal Sanctuary. Let's just hope we do not get a round of pot noodles this year… although they did go down well with the staff! If you have items you wish to donate to the charity, speak to a member of staff or bring them to Furc-Ops on the day.
Closing Ceremony - 6:30PM to 7:30PM
As we close out the weekend, this is the time to celebrate what went on over the previous two days and reflect on next year. Who knows, we may even give a sneaky peek preview of what our next theme for 2020 is going to be... something for the speculation mill!
DJ five, Mariday - 8:00PM to 10:00PM
Even though it's the last (official) night, let's see it out the right way. Kicking off Sunday will be Mariday, and those that know them, know they are well known for their electronic music and electro-swing. Who can say no to that?
DJ six, Skunk Mantra/Ulfer Wolfy Collaboration - 10:00PM to 12:00AM
It's the last night, we can't go a Furcation without getting the Entertainments Manager on the decks, and like last year, he's partnering with Skunk Mantra to see the night out with 80's, 90's and some music so cheesy, it'd give gorgonzola a run for its money!
MONDAY 
Furcation Feedback Session - 12:00PM to 1:00PM
This is a new thing for Furcation this year. We are hosting a feedback session on Monday so you can tell us what you liked, did not like, what you would like to see Furcation doing in future. All feedback will be taken on board and looked into for implementation in future years.
Re-Run The Fun! - 7:00PM to 12:00AM
What's this (Cue the three letters here)? There is one more dance to see us out of Furcation? One thing we have always been asked is "Why don't we do a dead dog dance for your late departure guests?". Truth be told, we hated the name 'dead dog'! This year, we are doing our own little spin on it, so join us from 7PM to close where we will have a range of tunes from Gothicat, Ulfer Wolfy and Starfire, and let's bring Furcation 2019 to a close in spectacular style.
PANEL ROOM - DUNE HOUSE 
In addition to the main stage in the clubhouse, we also have a panel room available for us. This room will be used to host hour long panels by you, the attendees! When the panel room is not in use, it will turn into a quiet space for people to relax away from the hustle and bustle of the main event. Please note though that the Dune House Panel Space will be closed for the opening and closing ceremonies.  
The panels we are running are..... 
FRIDAY
8:00PM to 9:00PM - My First Furry Convention (Ulfer Wolfy / Rwylin)
SATURDAY 
12:00PM to 1:00PM - Feline Meet and Greet (Kitcat)
1:00PM to 2:00PM - How to Improv Like A (Semi) Pro! (CD Seadragom)
2:00PM to 3:00PM - Improv Show (CD Seadragom)
3:00PM to 4:00PM - Raccoon Meet and Greet (Ramzi Raccoon)
4:00PM to 5:00PM - Girls Meet And Greet (Gothicat)
7:00PM to 8:00PM - Pup Meet / Littles Meet (Anthropuppy / PraxisWolf / IMrBlueFox)
SUNDAY
12:00PM to 1:00PM - Electronics And Makers' Meet (Cosmo)
2:00PM to 3:00PM - Tea Duelling (Mariday)
3:00PM to 4:00PM - TikTok Furries (Ramzi Raccoon)